***** Following our licence renewal inspection in March 2022 by Durham County Council, Paws n the Paddock is thrilled to announce that we have been awarded the highest possible rating – 5 stars!! *****
Thank you to all our lovely clients with their wonderful dogs for your continued support.
We also look forward to welcoming new clients, please contact us with your enquiries.
Paws n The Paddock is open and working safely, adhering to Government and industry guidelines at all times.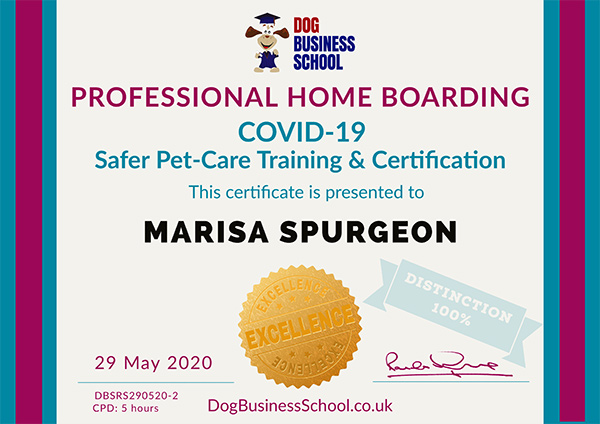 On 29th May 2020, Marisa was awarded a Distinction in
the Covid-19 Safer Pet-Care Training and Certification
run by the Dog Business School.
She earned 100% scores in all the Assessments, so please rest assured that we are fully committed to the safe practices advised by such bodies as the World Health Organisation, DEFRA, the Canine and Feline Sector Group etc.
• Our clients and their dogs are of utmost importance to us and safety for all is our first concern.
• We are regularly reviewing and adhering to Government and NHS advice on how the virus can be managed and contained, particularly to Defra (Department of the Environment, Farming and Rural Affairs) who oversee canine regulations, and we have implemented new robust plans to reflect the latest Government advice.
• We have carried out a robust risk assessment for our business, to minimise the chances of virus transmission.
• We have put in place a series of steps and measures to keep clients, pets, and family members safe which allows us to continue to serve our clients.
• To reduce risk, we have implemented relevant safe social-distancing (always keeping 2m+ away) and hygiene regimes, procedures and improved practices as recommended by Government guidelines.
• The World Health Organisation states "There is no evidence that a dog, cat or any pet can transmit COVID-19. COVID-19 is mainly spread through droplets produced when an infected person coughs, sneezes, or speaks." To protect you and ourselves we wash our hands frequently and thoroughly and we avoid using any equipment belonging to a dog. Instead we use our own equipment which is washed and disinfected daily.
• If someone who is infected with the virus was to cough over a dog, the droplets may land on their fur. Hence we wipe the back of the dog down at the beginning and end of every service and exercise dogs on our own dog field here to minimise the chances of contact with other people or unknown pets.
• We require a household health declaration from our clients before providing a service as we have to evidence we have checked the status (as best we can tell) before each service to minimise the chances of dogs from vulnerable, shielded, self-isolating or Covid-19 positive households mixing.
• Any client absent because of a confirmed case of COVID-19, together with their pet, will remain off site for the full course of the illness, as recommended by Government guidelines.
• We appreciate that you may require additional or altered services during this period for your own convenience or financial necessity.
• Because veterinary practices are mostly only open for urgent work, we will review any expired vaccination certificates on a case by case basis.
• We are focused on working with you, (our clients), to maintain best practices and to establish your requirements.
Please keep us updated on your needs, as best you know them, when you know them